---
The call activity like who is your spouse been talking and for how much duration he is involved in the conversation can be monitored by you. In the app after login, you get to see the call activity of the targeted person. Using your Smartphone, you will be able to do all this activity with the help of this app. The call recording is saved automatically from the targeted person cell phone and uploaded to your account.
When you log into your account, you can listen to the call recording.
Free Systems Management Tools
In this manner, if you are unavailable to monitor then automatically the app will ease your work and won't let you miss the conversation. The phone spy software has features for ambient voice recording.
This feature helps you hear the surrounding voice area. The recorded content uploaded in mobile which you can listen as well as download.
How to Spy on Someones's Phone - Free
These days people use the WhatsApp more than normal SMS because of its feature allowing you to share content like photos and videos. The mobile spy app helps you monitor WhatsApp activities. You can view the messages, archives, spam messages of the targeted cell phone and save it. You can view shared media files on WhatsApp and deleted conversation as well. To spy WhatsApp, you must be connected to the internet otherwise you won't be able to monitor.
TheTruthSpy lets you view all the Facebook chat conversations that take place through the target phone. TheTruthSpy lets you view all the SnapChat chat conversations that take place through the target phone. View the history of websites visited from devices. Block what websites you do not want target users to visit.
Captures all what target users typed on target devices so can know password of facebook for example. TheTruthSpy will let you all contacts address books including telephone numbers stored on mobile devices. TheTruthSpy provides you an online control panel that you can access from anywhere with an internet connection.
Your kids or Employees cannot know if there is TheTruthSpy installed on their devices.
Spy Software
The Android spy software available helps you to spy on the social media sites your family member or spouse use like the snap chat, Facebook or Instagram. You can spytxt messages and conversation taking place on social platforms of the targeted cell phone. Also in this way you can see the whether the targeted cell phone is used for a good purpose or not.
It is your time unrevealing the truth is hidden behind the changed behavior of your spouse. Catch him cheat you through his mobile using spytext software and application. Become a true spy and do spying activities using the mobile spy app. If you think your spouse is in any problem due to which his behavior was changing day by day or someone is blackmailing him. Monitor his mobile know the reality and take proper actions within time. TheTruthSpy is designed basically for spying purposes, but spying is not meant only for a spouse.
You as a parent also require phone spy software to monitor and control child activity on his cell phone. You can track location at which your child been present lately. Also, monitor the activities like how many hours in a day he is actually involved using the cell phone and how many hours he been busy studying. If you find him doing this activity then lock the social media app.
To maintain the friendly and peaceful environment in the office it is important to exclude employees who are lazy and corrupt. Monitor employee through mobile spy app and know about their activity in the office. Know whether the employee was working or chatting on the cell phone. If you find them red handed it will be easy to punish them and take appropriate actions.
Extracting Data: The application will extract data from the device on a regular basis. Home TheTruthSpy for Android. See the terms and conditions. Follow step-to-step below. Enable unknown sources. Step 1: Open Settings. Step 2: Choose Security. Step 3: Check the box Unknown sources. Accept the warning by clicking OK.
Step 1: Open Play Store. Step 2: Choose Play Protect. Step 3: Uncheck Scan device for security threats. You can see TheTruthSpy.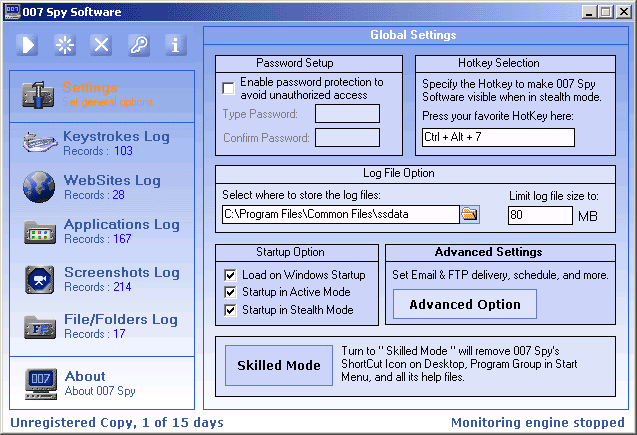 Click TheTruthSpy. Supports up to 3 devices. Step 5: Click button Configuration What is TheTruthSpy Application If you are working women then you will not have enough time to look after your children, partner, therefore, you need to find out what is going on in their life. GPS Tracker TheTruthSpy software not only gives you features to spy text but also you are allowed to see the live activity of the targeted person.
The ethics are certainly debatable, but in the end, you must ask yourself how ethical infidelity is. VNC is a very popular, free remote computing application. This approach requires a unique configuration.
Spy On Any Android Phone & iPhone
First, install the full free version of VNC on the computer that you want to monitor. Make sure all boxes are unselected. The final step is to install the software on your laptop or PC at some other location.
Once you have the server the suspect computer and your viewer configured, you can connect to the remote PC whenever you like and monitor how the person sitting at the computer is using it. Many people feel that since their cell phone is so easy to use in secluded locations, that it is a safe way to facilitate an affair. Unfortunately for cheaters, the cell phone is the worst device for trying to have private conversations. Few companies are as diligent at keeping such detailed records as cell phone companies. Not only can you view the date and time that certain numbers were called, or which numbers called the phone, but often you can also view the length of the phone call.
How do you have a look at those records? If you are listed as one of the owners on the cell phone account most families have multiple cell phones under one account then you have every right to view the bill. The easiest way to do this is online. All you have to do is configure the account for online billing using your email address. However, if your spouse already has an account set up, getting access is simple. Submit the number on this page, click continue, and then view the password that gets sent to the phone via text message.
Be careful, if you are not listed on the account, you could potentially get into legal trouble — so tread carefully. While there are dozens of MakeUseOf articles outlining how you can remove keyloggers from your PC, in this case you are actually going to install one so that you can monitor all activity on the PC.
Thanks a lot for the app! TFTP Server. SpyKing PC Spy software is great tool for parental control, monitoring your employees or children, and even investigating crimes. Perform accurate network path analysis. SMS spy — with the help of the SMS spy, you can easily know all the content of the message that is done by the person. Server Health Monitor. Appmia works on all mobile phones in spite of the network.
Running a keylogger can reveal some very fascinating information about your spouse. One example of such a keylogger is the free version of the Revealer Keylogger. When you launch this application, you can set it up to automatically launch at Windows startup. You can also define the special key combination that will open the invisible application. Then walk away into another room and allow the application to do its thing. Many free keyloggers do a terrible job capturing keystrokes, especially if the user types fast.
I tested four free keyloggers and found that Revealer was the only one that captured every keystroke. It even logs application use as well. The results of such a log could turn out to be rather shocking — so be prepared! Technology can offer answers that a lying spouse refuses to provide.
Real PC Spy Software Free Download - centrareci.tk
By capturing the evidence that proves infidelity or disloyalty, you can then free yourself from the burden of living a life full of doubt and worry. What is your opinion on the ethics of using technology to spy on your spouse? Is it OK or is it an invasion of privacy?
Phone Spy Software - Phone Spy Software is a stealth app which allows you to secretly record all activities of your smart phone. Phone Spy Software allows you . Mobile Tracker Free is a free application for monitoring & tracking SMS, MMS, Calls, Recording Calls, Do not hesitate, download Mobile Tracker Free now.
Share your opinion in the comments section below. Do you also know of any other software tools which can be used?